Sychrov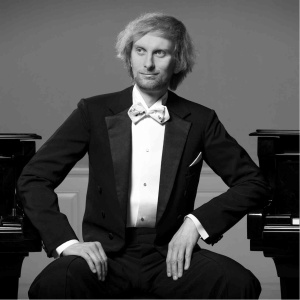 3. června 2023   18:00
Sychrov
Státní zámek Sychrov – zámecká obrazárna
Koncert se koná k 30. výročí udílení cen SENIOR PRIX Nadací Život umělce
L. van Beethoven – Sonáta c moll op. 13 "Patetická"
F. Schubert – Impromptus D. 899, op. 90
A. Dvořák – Valčík Des dur op. 54 č. 4
                  – Humoreska Ges dur op. 101 č. 7
                  – Valčík Es dur op. 54 č. 8
F. Liszt – Uherská rapsodie cis moll č. 2 S. 244
Ivo Kahánek
Je absolventem Janáčkovy konzervatoře v Ostravě a Akademie múzických umění v Praze. Má za sebou také studijní stáž na londýnské Guildhall School of Music and Drama a mistrovské kurzy pod vedením Karl-Heinze Kämmerlinga, Christiana Zachariase, Alicie de Larrocha, Imogen Cooper, Petera Frankla a dalších osobností. V současnosti působí jako docent na Hudební a taneční fakultě AMU v Praze a vede mistrovské kurzy klavíru v rámci Letní hudební akademie v Kroměříži a Klavírních kurzů Pražské konzervatoře.
Jako interpret nevšední emocionální síly a hloubky si Ivo Kahánek získal pověst jednoho z nejpůsobivějších umělců své generace. Svůj dar okamžitě navázat citovou vazbu s publikem dokáže náležitě zužitkovat ve skladbách od baroka po modernu, s těžištěm v romantickém repertoáru. V cizině je rovněž pokládán za specialistu na interpretaci české hudby.
V roce 2004 se stal absolutním vítězem mezinárodní hudební soutěže Pražské jaro a již předtím získal ocenění v mnoha významných kláních u nás i v cizině (Maria Canals Piano Competition v Barceloně, Vendome Prize ve Vídni, Stiftung Tomassoni Wettbewerb v Kolíně nad Rýnem, Mezinárodní soutěž Fryderyka Chopina v Mariánských Lázních, Concertino Praga aj.).

Zámek se nachází se u stejnojmenné obce v Libereckém kraji. Je unikátním příkladem novogotického šlechtického sídla druhé poloviny 19. století.
V zámeckých sbírkách se rovněž nachází pozoruhodná kolekce francouzské portrétní malby, tzv. Rohanská portrétní galerie. Čítá na 250 portrétů členů rohanského rodu, spřízněných rodů i členů francouzské královské dynastie Bourbonů (včetně portrétů králů Ludvíka XIII., Ludvíka XIV. a Ludvíka XV.). Jedná se o největší sbírku francouzského portrétního malířství ve střední Evropě.
Se sychrovským zámkem je spojen i český hudební skladatel Antonín Dvořák, který zámek a přilehlou obec sedmkrát navštívil. Dojížděl sem za svým dlouholetým přítelem, sychrovských správcem Aloisem Gobelem. Krása zámeckého parku, kde se často procházel, jej inspirovala k řadě skladeb, např. k houslovému Koncertu a moll, op. 53.
Zámecká galerie, kterou v minulosti využívala šlechta ke konání divadelních či hudebních představení nebo dokonce plesů, vytváří díky rozsáhlým prostorům ideální prostředí pro konání akcí s velkým množstvím hostů. Díky svému reprezentativnímu dojmu, tvořenému například sbírkou vzácných obrazů, zajišťuje galerie jedno z nejkrásnějších míst pro konání akcí v rámci nejrůznějších příležitostí.