Praha – Kyje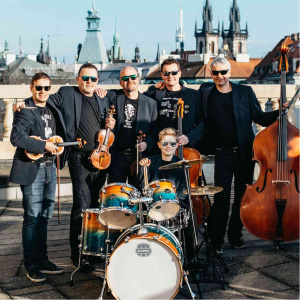 13. června 2023   19:00
Praha – Kyje
Koncert se koná pod záštitou Josefa Kutmona, radního pro kulturu a školství
Vstupné na místě: 300 Kč Sleva: 50% ZTP/P + 25% senioři nad 60 let
MARCEL KOZÁNEK – 1. housle
LIBOR VILÍMEC – 2. housle
PAVEL HOŘEJŠÍ – viola
PAVEL LUDVÍK – violoncello
JIŘÍ VOPÁLKA – kontrabas
TOBIÁŠ KOZÁNEK – bicí
J. Lennon – A Hard Day's Night
J. S. Bach – Preludium in E
L. van Beethoven – Rock over Beethoven
A. Dvořák – Swing Largo
B. Bernie / M. Pinkard – Sweet Georgia Brown
Queen – Bohemian Rhapsody
Deep Purple – Smoke on the Water
Whitesnake – Soldier of Fortune
AC/DC – Back in Black
Europe – The Final Countdown
P. McCartney – Eleanor Rigby
J. Schelinger – Holubí dům
M. Kozánek – Travička jazzová
Iron Maiden – The Trooper
Metallica – Master of Puppets
Judas Priest – Breaking the Law
Jsou to zapálení muzikanti a členové orchestru České filharmonie. Hrají rock, metal, pop, latinu nebo jazz i filmové melodie ve vlastních úpravách, ale mohou překvapit i legrační klasikou. Jejich heslo zní následovně "Zahrajeme vám kdekoliv a cokoliv"!


Praha – Kyje
Kyje vznikly již v raném středověku, což badatelé v oboru historie vyvozují ze samotného názvu obce, kdy Kyje vykládají jako ves Kyjovy rodiny, s tím, že vlastní jméno Kyj (nesouvisí ale s palicí, jak by se mohlo zdát) je doloženo již v roce 1052. To ale neznamená, že je to datum založení vsi nebo nějaká doložená zmínka o ní. Doba založení je neznámá. Existuje pověst, která praví samozřejmě něco jiného – název prý vznikl tím, že si bojovníci z Velké Moravy při svém tažení na Čechy, usedlé tehdy v okolí řeky Vltavy, vyrobili ze dřeva v lesích nad kyjským rybníkem kyje. Další kyjská legenda vypráví o podzemních chodbách, které měly údajně vést až do Staré Boleslavi, do Dolních Počernic, Chval a Jenštejna. Pádným dokladem tohoto tvrzení prý byly propady a sesuvy půdy na začátku minulého století.
Doporučujeme udělat si před koncertem čas k prohlídce středověkého kostela sv. Bartoloměje. Jednolodní chrám z první poloviny 13. století je postaven v pozdně románském slohu. Uvnitř kostela se nachází původní dochované fresky zpodobňující biblické výjevy a fresky některých z pražských biskupů. Od roku 1958 je objekt chráněn jako kulturní památka.
Praha 14 kulturní provozuje mimo jiné i Kulturní dům Kyje, který sídlí nedaleko v Šimanovské ulici.