Kolín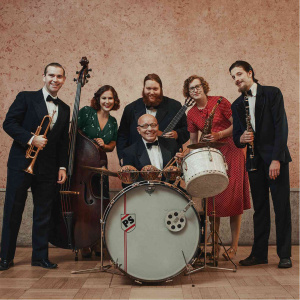 30. července 2023   17:00
Kolín
Bartolomějské návrší
(za nepříznivého počasí v  synagoze)
Koncert se koná pod záštitou Mgr. Michaela Kašpara, starosty města Kolína.
JAN VEVERKA – trubka, zpěv, kapelník
VERONIKA ŠERÁ – tenor saxofon, klarinet
JAKUB DOUDA – alt saxofon, klarinet
KRISTÝNA KANICKÁ – kontrabas
VÁCLAV JANŮ – kytara
PAVEL SKLENIČKA – bicí
Skladba Antonína Dvořáka
Nebe na Zemi (J. Ježek/ J. Voskovec, J. Werich)
Slunečnice (S.E. Nováček/ J. Gruss)
Rosetta (E. Hines)
Ráda zpívám HOT (K. Běhounek/ K. Kozel)
Dívka k rytmu zrozená (Al. Jindra/ J. Moravec)
Lulu's Back In Town (H. Warren/ Al. Dubin)
Recept na náladu (Al. Jindra/ J. Moravec)
Sám s děvčetem v dešti (K. Běhounek/ K. Kozel)
I'm Beginning To See The Light (D. Ellington)
Sing Me A Swing Song (H. Carmichael)
Pláče nebe (L. Korbař/ J. Moravec)
Kdy a kde (K. Běhounek/ K. Kozel)
Swing Melody
Profesionální šestičlenný jazzový orchestr, který se zaměřuje na nejslavnější
éru jazzu, a tou je Swing. V repertoáru naleznete nejslavnější kousky od Duka Ellingtona, Bennyho Goodmana, Counta Basieho a dalších, tak i nezapomenutelné české písně, které tak brilantně uchopili R. A. Dvorský, Oldřich Nový nebo orchestr Karla Vlacha.
Pro co největší autenticitu zvuku používají členové našeho orchestru ke své hře výhradně historických hudebních nástrojů a notových materiálů, a to právě z éry 30. – 40. let minulého století. Swing Melody můžete nejčastěji spatřit na koncertech a tanečních akcích nejen v ČR. Orchestr je také možné objednat na hudební festivaly, plesy, svatby, firemní večírky a jiné vámi pořádané akce.
Krása, šarm a elegance interpretů… to vše lze nalézti při vystoupení Swing Melody!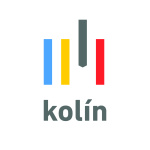 Objevte poklad v srdci Kolína!
Historie královského města Kolína je velmi bohatá. Hlavní dominantou a nejcennější architektonickou památkou města je Bartolomějské návrší. Chrám sv. Bartoloměje je mimořádným dílem gotické architektury. Stavbu vysokého katedrálního chóru prováděl v letech 1360–1378 významný stavitel Karla IV. Petr Parléř. Obohatil tak Kolín o jedno z nejoriginálnějších děl gotické architektury lucemburského období.
Není to ale jen chrám, který stojí za pozornost. Po rozsáhlé revitalizaci areálu rozprostírajícího se kolem kostela získal Kolín unikátní ucelené zákoutí v historickém centru města, které nabízí návštěvníkům nové pohledy na kolínskou dominantu. Při procházce zde narazíte na řadu historicky významných prvků, např. v místech bývalého městského hřbitova nebo u městských hradeb. Oázou pro oči i duši je posezení na zelených parkánech. Energii můžete načerpat třeba i u bylinkové zahrádky.
Kromě chrámu je nově návštěvníkům přístupná barokní kostnice z roku 1733. Množstvím kostí a bohatostí ornamentální výzdoby interiéru v duchu "memento mori" jde v rámci území ČR o stavbu srovnatelnou snad jen s kostnicí v Sedlci u Kutné Hory. Ve zvonici je vystaven chrámový poklad, věž nabízí expozici zvonů i skvělou vyhlídku na město. Zpřístupněna je také stará farní škola s interaktivní moderní expozicí věnovanou událostem z historie města a slavným osobnostem Kolína.
Otevřeno je celoročně, vstup do venkovních expozic je zdarma. Návštěva unikátního Bartolomějského návrší v samém srdci Kolína rozhodně stojí za to!