Praha – Dubeč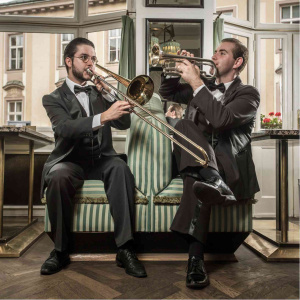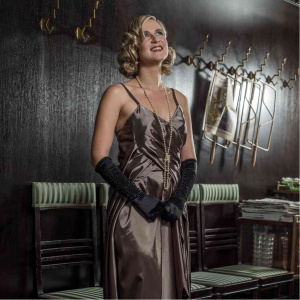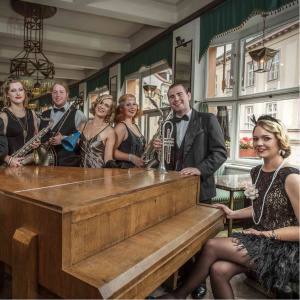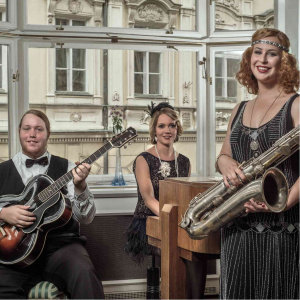 6. září 2023   19:00
Praha – Dubeč
Špejchar – U Dubečské tvrze 1675
Koncert se koná pod záštitou Jaroslava Tošila, starosty Městské částí Praha-Dubeč.
VERONIKA ŠERÁ – soprán saxofon, alt saxofon, C melody saxofon, tenor saxofon, klarinet, kapelník
JAN VEVERKA – trubka, kornet, zpěv
MIROSLAV NEJDL – trombon
KRISTÝNA KANICKÁ – baryton saxofon
VÁCLAV JANŮ – kytara, banjo
DALIMIL SMRŽ – klavír
RADKA ŘÍHOVÁ – zpěv, kazoo, choo choo
Why Can´t You (De Sylva, Brown, Henderson, Jolson, Cihlář, Hrnčíř)
Nobody Cares If I'm Blue (Harry Akst/ Grant Clarke)
She´s Cryin For Me (Pecora)
If I let you get away with it once (Jack Frost, Fred Rose)
Happy Feet (Chodidla) (Ager, Yellen, J. Voskovec, J. Werich)
Tain't No Sin To Dance Around In Your Bones (E. Leslie, W. Donaldson)
Ain't She Sweet (Milton Ager/Milton Ager, Jack Yellen)
Everybody Loves My Baby (C. Williams)
She's Funny That Way (N. Morén, R. A. Whiting)
Who's Sorry Now (Ted Snyder)
Mississippi Choo Choo (Frost/ Rose)
Hugo (I Go Where You Go) (Williams/ Goold/ Silver)
Teď ještě ne (J. Ježek, V. Nezval)
I'm Thinking About You (Jack Gardner)
Royal Garden Blues (C. Williams, S. Williams)
Yes sir! That's My Baby (Walter Donaldson/ Gus Kahn)
Humoreska (A. Dvořák)
Prague Rhythm Kings
je profesionální orchestr zabývající se originální interpretací jazzové a populární hudby mezi léty 1923–1932. Repertoár orchestru čerpá ze zvukových záznamů nejpřednějších amerických, ale i českých hudebních těles. Díky použití historických interpretačních prvků a hudebních nástrojů se snaží přiblížit autentickému zvuku jazzových orchestrů dvacátých let.
Noblesa, elegance, ale i nespoutanost těchto "žhavých" let se Vám dostane v jedinečné koncertní show! Nejen pomocí Blues, Charlestonu, Foxtrotu a sladkých muzikálových melodií, ale i díky dobovým účesům a kostýmům vám navodíme tuto jedinečnou atmosféru.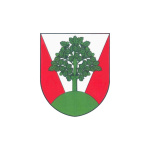 První zmínku o obci je možné nalézt v písemných památkách z r. 1088. Svůj název získala pravděpodobně od slova "dubec", výrazu pro robotníky specializované na kácení a zpracování dřeva, převážně dubů. Součástí Hlavního města Prahy se obec Dubeč-Dubeček stala v r. 1974.
Tato část Prahy se může stále ještě pyšnit krásou okolní krajiny, třebaže již v menším měřítku. Za své vzala existence historické rybniční pánve, ne nepodobné dílu J. Krčína, rozlehlých luk, hlubokých lesů. V současnosti je snaha tyto omyly minulosti napravovat. V Dubči se začaly vysazovat lesy a došlo i na částečnou obnovu rybníků. V roce 2021 byla dokončena HMP revitalizace bývalých rybníků v Lítožnici a vznikl tak jeden z největších pražských rybníků o rozloze téměř 8 ha. Na území Dubče se momentálně nalézá Chráněné území Rohožník a Chráněné území Lítožnice.
Pozůstatky dubečské tvrze vzniklé někdy v polovině 14. stol., kdy pražský měšťan Menhart z rodu Velfl oviců zakoupil Dubeč a jeho potomci si začínají říkat Dubečtí z Dubče. Tvrz se stala centrem rozsáhlého panství a během let se změnila ve venkovské renesanční sídlo. Zanikla po pobělohorských konfi skacích, kdy byla připojena k Uhříněvsi. Je možné, že její zdivo bylo použito ke stavbě barokní sýpky, stojící na základech starší dubečské tvrze v těsném sousedství.
V roce 2006 byla sýpka (špejchar) rekonstruována a stala se součástí revitalizovaného území při toku Říčanky a sousední Panské zahrady (park otevřený v r. 2011).
Původně gotický kostel sv. Petra v Dubečku pochází z pol. 14. stol. V letech 1867–68 byl přestavěn do pseudogotického stylu včetně věže. Na hlavním oltáři však zůstal barokní obraz sv. Petra z 18.stol. Nejvzácnější památkou kostela je votivní deskový obraz z 2. pol. 14. stol. V současnosti se nalézá ve sbírkách NG, v kostele ho nahradila kopie.