Hrusice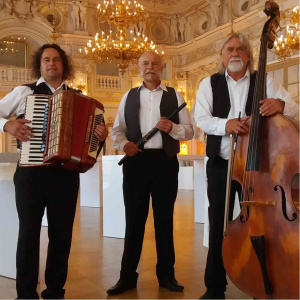 Pražský Hradčanský orchestr
24. června 2023   19:00
Hrusice
Koncert se koná pod záštitou Mgr. Petra Sklenáře, starosty obce Hrusice
PRAŽSKÝ HRADČANSKÝ ORCHESTR
PETR HAVEL – akordeon
JOSEF KOCŮREK – příčná flétna
PAVEL NEJTEK – kontrabas
M. A. Charpentier –– The Deum
J. S. Bach – Air
J. S. Bach – Menuet/Badinerie
A. Vivaldi – Zima 2. část
G. F. Handel – Arrival of the Qeen of Sheba
A. Dvořák – Humoreska
A. Dvořák – Když mne stará matka
A. Dvořák – Largo (2. část symfonie Novosvětská)
Krásná růže– píseň na renesanční thema
Anonym – Interlude
W. A. Mozart – Malá noční hudba (1. část)
W. A. Mozart – Marccia a la Turca
G. Binge – Elizabeth serenade
Greensleeves – (původní tabulatura 13. stol.)
V. A. Michna z Otradovic – Nebeští kavalérové
Pražský Hradčanský orchestr
Virtuosně – zábavná hudba, to bude nejspíše nejpřiléhavější přídomek mistrně provedených muzikantských kousků vyvážených jak na lékárnických vážkách. Na misce jedné je klasika, skladby, které psaly samy dějiny, na misce druhé pak nadsázka a chytře vymyšlené aranže skladeb, které vyráží dech. To vše zahráno s virtuozitou fi lharmoniků. Aby ne, když příčný fl étnista (neboli fl étnista "naštorc", lze-li ho takto nazvat), Josef Kocůrek, je bývalým členem Virtuosi Pragenis. Jeho monumentální stylový knír jen podtrhuje skvělé podání skladeb. Vážná hudba se zpěvy a jazzovým strhujícím pojetím, navíc s legračním šmrncem, to je věc vskutku nevídaní.  Pozoruhodná postoj u nástroje, strhující styl hry a pohybové kreace basisty Jaroslava Kováře či milý andělský úsměv Radka Anděla jsou esencí exotického koření, umocňujícího a podtrhujícího výjimečnost tohoto souboru.
Jedenáct kilometrů jihovýchodně od Říčan, v okrese Praha-východ, se nachází obec Hrusice, která je neodmyslitelně spojena s dílem Josefa Lady. První písemná zmínka o Hrusicích je z roku 1205, kdy zřejmě patřily pod správu vládnoucího rodu Přemyslovců. Během své existence patřily Hrusice poddansky pod mnoho rodů, např. Valdštejny.
Nejvýznamnější kulturní a architektonickou památkou Hrusic je farní kostel sv. Václava ze 13. století. První zmínka o sakrální stavbě je z roku 1200 – kaple sv. Vojtěcha a v první polovině 13. století zde pak byl vystaven kostel zasvěcený sv. Václavu. Architektonicky se jedná o původně románský kostel, zakončený typickou apsidou. V druhé polovině 16. století byly provedeny vnitřní stavební úpravy: náhrada dřevěného stropu klenbou, výměna oken. Později došlo ještě k drobným barokním úpravám. Nejcennější součástí kostela je románský portál se sloupy z červeného pískovce. Tento portál byl v 16. století pravděpodobně zazděn a roku 1853 náhodně nalezen, když do kostelní věže uhodil blesk a severní strana kostela praskla. Portál je dílem mnichů z kláštera sv. Prokopa v Sázavě. Uvnitř kostela dominuje barokní oltář z druhé poloviny 18. století.
Dlouhou a bohatou historii zaznamenává také hrusická farnost. První zmínky o ní jsou již z roku 1359. Působil zde, kromě jiných, lokalista Vojtěch Kramerius, syn slavného knihkupce, nakladatele a českého buditele Václava Matěje Krameria.
Uprostřed hrusické návsi stojí hospoda U Sejků, která se stala světoznámou díky obrazům J. Lady. Za návsí při pravé straně potoka stávala jeho rodná chaloupka čp. 15. Byla zbourána roku 1932. Na současné budově je pamětní deska. Dalším významným objektem je busta J. Lady, která stojí před budovou obecního úřadu.
Na konci obce můžete navštívit památník J. Lady a jeho dcery Aleny. Nachází se v domě, který využívala rodina k letním pobytům. Seznámíte se zde s dílem známého českého malíře, ilustrátora a spisovatele, autora slavného kocoura Mikeše.